ALL YOU NEED TO KNOW ABOUT GUDI PADWA 2023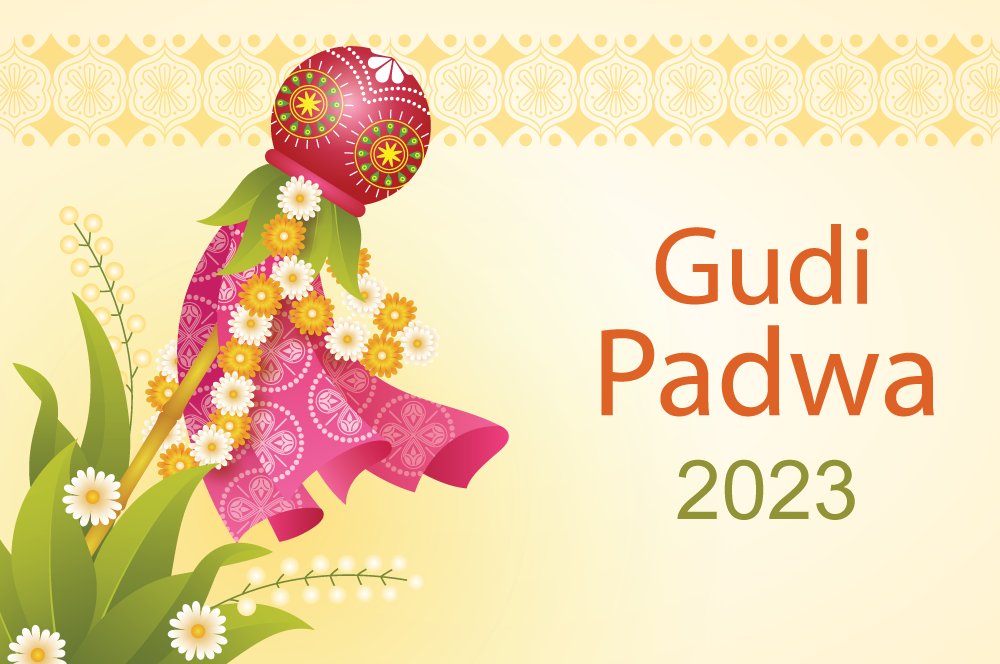 WHAT IS GUDI PADWA?
India is a land full of regional new years as it is land of thriving varieties of regional communities. Diversity has been a core part of the Indian subcontinent and thus, the welcoming celebration of spring season comes into a variety of festivals. Just like recent festivals of India that take place since the beginning of January, Gudi Padwa is yet another festival of spring season. It is also called as Ugadi festival in the State of Karnataka.
 Essentially, Gudi Padwa is a new year celebration for Marathi and Konkani communities spread across the states of Maharashtra, Madhya Pradesh and Goa. It marks the beginning of the new year on the regional calendar of Shaka Samvat. On the day of Gudi Padwa festival, a Gudi is erected in a household. This gudi is actually a flag made with a bamboo stick, a saree and a kalash. It is adorned with flower and neem garlands along with sweet delicacies.
 In Short, erecting a gudi in a household brings in the positive vibes as the season of spring waves across the earth. Gudi Padwa takes place on the new moon day which is again a very important day in the Hindu calendar. Gudi padwa celebration is a big thing in every Maharashtrian and Konkani household. It is a state holiday in both the states of Maharashtra and Goa.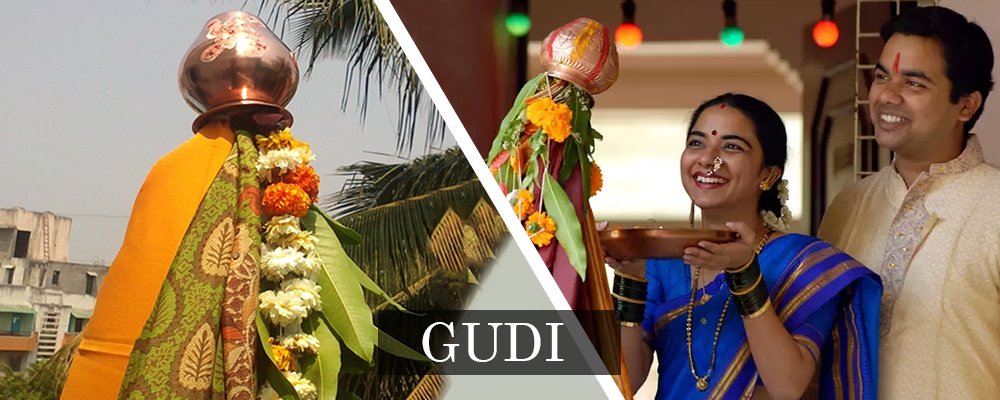 Gudi Padwa celebration in some local communities is all about the coronation of Prince Rama as the King of Ayodhya Kingdom after emerging victorious against Lanka King Ravana. However, local legends behind the origin of Gudi Padwa celebration have been drastically unique across villages in Maharashtra and Goa. Today, Gudi Padwa celebration is all about a happy family celebrating this festival at home with a stunning new saree being adorned on the Gudi with traditional food being cooked at home. Gudi Padwa has now become a diasporic festival since the spread of Maharashtrian and Konkani Indian communities across the United States, Canada and the United Kingdom.
 GUDI PADWA 2023
In the lines of Gregorian Calendar year 2023, Shaka Samvat calendar will enter in the Saka year 1945 with this Gudi Padwa 2023. Shaka Samvat calendar is also known as Shalivahan calendar. Gudi Padwa marks the beginning of new year with the first day of Chaitra month as per the Shaka Calendar. This Gudi Padwa 2023 falls on March 22 of Gregorian Calendar.
 As the erected Gudi during the Gudi Padwa 2023 celebration is all about inviting good vibes and luck while keeping the evil outside the household, thus, the Gudi is erected at the front gate of a household. Outside of a usual household celebration with festive dishes like Puran poli, shrikhand and puri, Gudi celebration has been a grand celebration on the local streets of villages, towns and cities.
 GUDI PADWA CELEBRATION
What is an Indian festival if it is not dazzled with stunning traditional Indian wear and teamed with designer and traditional Indian jewelry. However, you can also style up your ethnic fashion apparels with modern chic designer jewelry which is now exclusively available on iBhejo.com at low prices for a limited period till the stock lasts.
 People dress up freshly and gather for new year processions in towns where even celebration of victorious Maratha warriors also takes place. It is more of a tableau process with people dancing and singing on the streets. The streets on the occasion of Gudi Padwa are decorated with long garlands and colorful decor with rangolis and artworks all over the pavements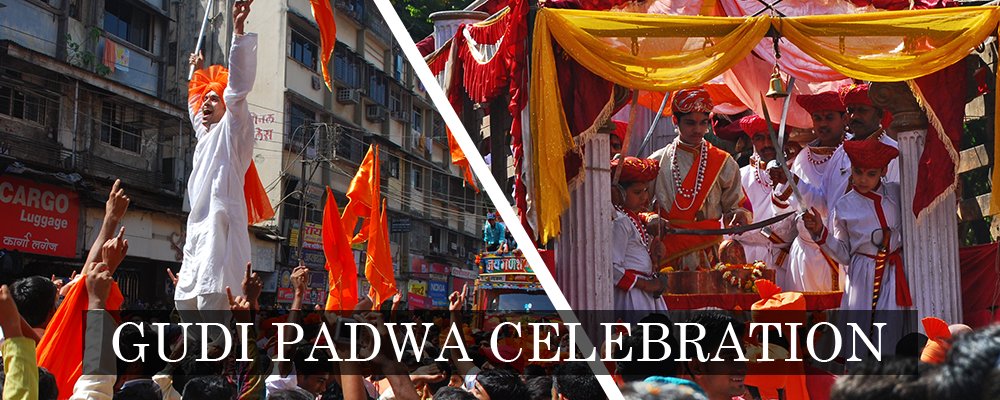 Traditional gudi padwa dress like a  saree, kurti, anarkali dress, etc are all worn by women and especially the woman of the household must drape a nine-yard saree called as navaari saree. However, in the modern times, it has become more difficult to carry such a traditional style of saree draping. Even pre-pleated saree and pre-stitched sarees are preferred nowadays for Gudi Padwa celebration.
 Menswear for Gudi Padwa is exclusively limited to Kurta Pajama sets and often a dhoti is required to be worn in certain communities to celebrate Gudi Padwa. Markets are filled with Gudi padwa offers on specially designed gudi padwa dress collections in cities and townsEvery family shops new fashion apparels for Gudi Padwa but if they cannot afford it then at least a new saree or a new piece of fabric is brought to adorn the Gudi flag during the Gudi Padwa celebration.
 FAQs
What is Gudi Padwa?
Gudi Padwa is a spring festival and a new year celebration for Marathi and Konkani communities of Indian States of Maharashtra, Madhya Pradesh and Goa.
 What is Gudi Padwa 2023 date?
Gudi Padwa 2023 date is March 22, 2023.
 Is Gudi Padwa a new year celebration?
Yes, Gudi Padwa is known as a Marathi New Year and Konkani New Year in Western parts of India.
 GUDI PADWA WISHES
iBhejo.com brings to you a curated list of Gudi Padwa wishes for this Gudi Padwa 2023 celebration. First, iBhejo.com wishes you a warm and prosperous Gudi Padwa. May all your life be filled with positivity and happiness.
 Gudi Padwa wishes in Marathi
गुढीपाडव्याच्या हार्दिक शुभेच्छा!
नूतन वर्षाभिनंदन
 Apart from the above usual wishes for Gudi Padwa greetings, one can simply opt for the following -
Wishing you a Happy New Year
Happy Gudi Padwa 1945!
May this year bring forth more prosperity, healthy lifestyle and bright future ahead.
 SHOP IMPORTED INTERNATIONAL PRODUCTS ON iBHEJO.COM THIS GUDI PADWA 2023
 As this Gudi Padwa 2023 marks new beginnings, you can begin this new year with quality and durable products imported from the US. iBhejo brings to you a range of globally well-reviewed electronic goods, baby foods, beauty brands and health care products for everyday life. Shop the best deals on imported and American brands with special deals on festive sales. Get low prices like nowhere else and shop earliest to never miss out on the best deals.
 iBhejo.com is all about making your international shopping experience more effective with curated collections for bestsellers and everyday essentials. iBhejo is a leading platform to shop international brands and their products with free delivery across India. It does not charge any hidden custom costs or additional shipping costs. iBhejo is your complete family shopping destination to fulfil all your household needs for this Gudi Padwa 2023 celebration.